YOUR HOME CHURCH ~~

 YOUR CHURCH AWAY FROM HOME!

The Ocean View Presbyterian Church is a congregation focused on growing in the faith and living out that faith in mission to others and to each other.  Not content with simply reciting doctrine, we have committed ourselves to looking into the Scriptures so as to uncover the ongoing story of our faith.  We seek to be a part of that story.  The congregation as a whole, and each of its committees, is actively engaged in doing mission, and on communicating in real ways the good news of Jesus Christ. 
Ocean View Presbyterian is a historic church, dating back to 1856.  We have a long and proud tradition, but seek to take that tradition and move into the future with it.  We also have a wonderful friendship and fellowship with each other that can be seen and felt in all aspects of ministry at OVPC.
We all invite you to be a part of our life and ministry.

;

67 Central Avenue, Ocean View, Delaware, 19970


Reverend Terence B. Dougherty

September DEACON'S MISSION

Milford Housing (MHDC)

WE CHOOSE WELCOME

We Choose to Love, rather than Fear the immigrant, the stranger among us.
'Truly I tell you, just as you did it to one of the least of these who are members of my family, you did it to me.'
Matthew 25:45 (NRSV)

Into this world, this demented inn, in which there is absolutely no room for Him at all, Christ has come uninvited.  Because He is out of place in it, and yet He must be in it, His place is with those for whom there is no room.  He is mysteriously present in those for whom there seems to be nothing but the world at its worst, for whom there is no escape, even in imagination.  It is in these that He hides Himself...

. Thomas Merton

OVPC PARTICIPATES ONCE AGAIN IN THE CWS CROP WALK FOR HUNGER

The mission of Milford Housing Development Corporation is to provide decent, safe, and affordable housing solutions to people of modest means.  OVPC is proud to be a partner in the home repair branch of MHDC by providing volunteer labor to eliminate threats to safety and health in the home.  Your contributions to this effort will provide supplies for our team to accomplish their mission.  Contributions will be accepted throughout the month of September.
We are all in this together - what impacts one impacts us all.  At OVPC we are committed to mission; whether it be providing fresh water in the Congo, educational opportunities in Rwanda, or school supplies right here in Ocean View.  Each year at this time we turn our attention towards hunger - we walk for those in need knowing that we are blessed and don't need to worry about where our next meal is coming from.  Please support us by making a donation to the team, a specific walker of signing up as a team member by visiting our team page.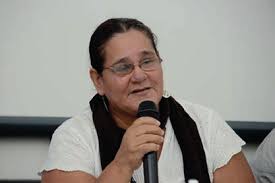 International Peacemaker
Erlinda Quesada

OVPC is pleased to welcome Erlinda as she shares her story of how ago-chemicals have affected the water supply of the Caribbean area of Costa Rica.
There will be several opportunities to meet Erlinda and hear about this important topic that touches upon Environmental Justice, Health and Wellness, and Clean Water.
Friday,     Oct 4:  6pm.  Pot Luck Supper in Memorial Hall
Saturday, Oct 5:  9:30am Morning presentation
Sunday,   Oct 6:  9:30am World Communion Sunday worship